Middleton is an international primary school in Singapore that's well-loved by parents for our academically rigorous elementary school programme. We offer the inquiry-based International Primary Curriculum (IPC) in Singapore, aligned with The UK National Curriculum for English and the globally recognised Singapore Maths.
International Primary Curriculum
The IPC is a comprehensive curriculum based on the English National Curriculum adapted for international primary schools, with reference to an inquiry-based approach to learning. It has a clear learning process and specific learning goals, designed to appeal to children's interests and help them learn more about the world. First introduced in 2000, it is one of the fastest-growing international primary school programmes globally. There are over 1,000 IPC schools in more than 90 countries, including more than 10 IPC schools in Singapore.
At the heart of the IPC curriculum is a set of rigorous and holistic subject, personal and international learning goals.
Subject Goals - cover the knowledge, skills and understanding that children should learn in.
International Goals - help learners move towards a national, international, global and intercultural perspective on the world around them whilst developing the capacity to take action and make a difference.
Personal Goals - underpin the individual qualities and dispositions that learners need to thrive in an ever-changing world. The eight IPC personal goals include adaptability, cooperation, respect, thoughtfulness, communication, morality, enquiry and resilience.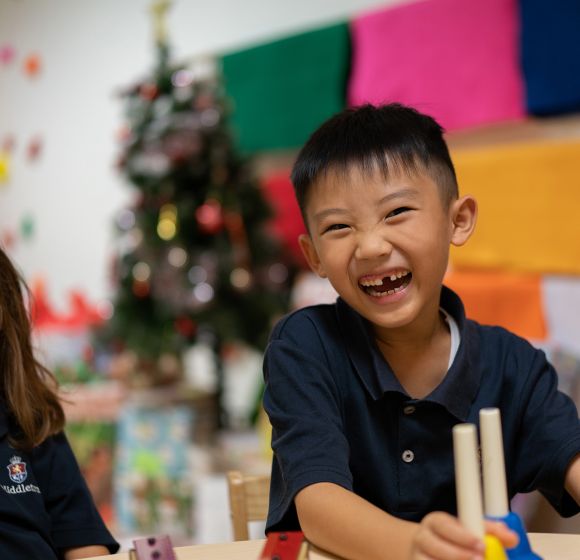 The units of study within the IPC curriculum take on a thematic approach, weaving together different learning goals and subjects in an integrated and logical way. It can be adapted to children's interests and level of understanding to ensure that learners take ownership and are enthusiastic about their learning. These enable elementary school-aged learners to make meaning of their new knowledge, show their skills and apply their understanding to the real world.
Singapore Maths has been well-received by the international community. At present, more than 40 countries and regions worldwide have adopted the Singapore maths curriculum and teaching methods, including US, UK, France and Australia. We adopt Singapore Maths into our curriculum to provide learners with the knowledge, skills and understanding to prepare them for success in the 21st Century.
We use real-life applications to develop learners' thinking and solidify their understanding. Instead of simply memorising formulas, we equip students with the ability to use mathematical knowledge to solve problems in their lives.
One main characteristic of Singapore Maths is using heuristics to help learners decide the best way to solve a problem. The process of learning and applying heuristics helps develop children's critical thinking and problem-solving abilities. These are essential skills to ensure our students are well prepared for the next steps of their education journey.
| Subjects | |
| --- | --- |
| English | Additional English (Elective)^ |
| Mathematics | Performing Arts |
| Informational Communication Technology | Additional French (Elective) ** |
| Visual Arts | Additional Hindi (Elective) ** |
| Personal Social and Physical Education | Additional Chinese (Elective)* |
| Science | Library |
| Social Studies | Supervised Study |
| | |
* Optional at Tampines except for Grade 1    ** Only offered at Tampines    ^ Required based on English proficiency